Frequently Asked Questions About Home Electrical Systems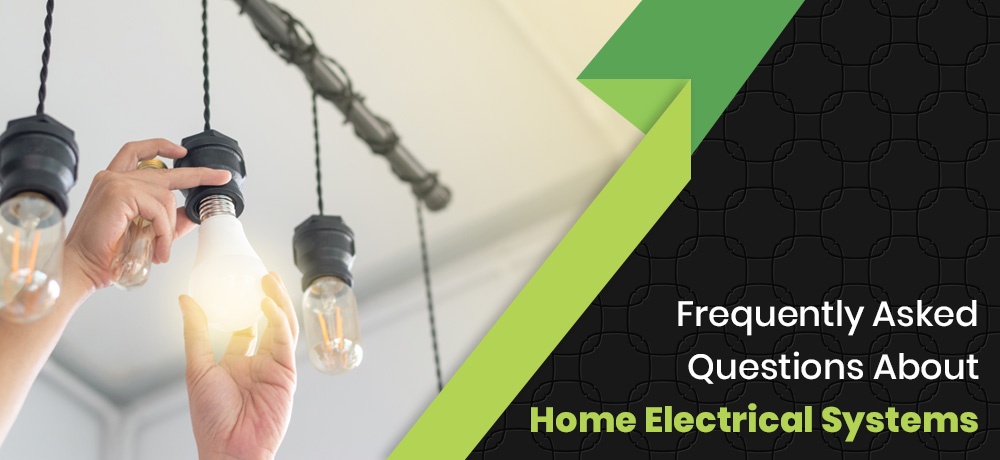 Installing washers, dryers, or the latest home electrical systems can improve your living standard. However, if you're looking to install a home electrical system, you may have tons of questions about the process but may find it tricky to get all the answers that you're seeking.
So, to ensure you have all your doubts cleared, Delray Electric Ltd. has answered some of the most frequently asked questions about home electrical systems.
1. The power turned off. What should I do?
You need to turn the circuit breakers completely off then fully back on for the breakers to properly reset.
2. The lights in the bathroom turned off. What should I do?
You will need to push the reset button on your ground fault circuit interpreter (GFCI) receptacle to reset the protection and the circuit.
3. Can we change bulbs to LED?
Yes, as long as you are looking at the same characteristics of the lamp. You can get better lighting for less power consumption by installing LED's.
4. Can I put a different breaker manufacturer into the panel?
The breakers may fit, but if a fire breaks out, then a thorough investigation will be carried out by the insurance company. If they notice the different manufacturer breakers in one panel, then your claim will be void.
5. Can we put in additional lights?
Pretty much if you can dream it, we can achieve it! From lights under your toe-kicks to LED lights behind your mirrors, our team will get to work on accomplishing the task efficiently.
6. I just bought an AC unit, and the AC tech says that they can wire it for me. Is that a good idea?
No, they do not have the necessary training in the electrical field. They are not up to date on the electrical codes and usually make many mistakes, which may lead to a potential fire hazard. The answer is to call an electrician and make sure that they get a permit to ensure that the installation gets done correctly and follows the electrical code.
7. Do I need a permit for this project?
A rule of thumb is that if you alternate an existing system, you're in a good position, but if you add anything new, then a permit is required. If you need assistance with this, then call us, as we are certified, insured, and licensed, and have master electricians to pull your permits.
If you have any more questions about home electrical systems, get in touch with the experts at Delray Electric Ltd. As a team of expert electricians In Morinville, AB, we endeavor to use our thirty-five years of experience to render professional advice, troubleshooting, and installation services.
Our services include commercial electrical services, residential electrical services, lighting installation, upgrade, and repair. We also provide new electrical installations for clients.
We serve clients across Morinville, Fort Saskatchewan, Sturgeon County, Westlock, Legal, Redwater, St. Albert, Sherwood Park, Edmonton, Spruce Grove, Stony Plain, Gibbons, Bon Accord & Sandy Beach, AB.
To learn more about how we can help you, please click here or contact us by clicking here.
---
---