Common Mistakes People Make On DIY Home Renovation Projects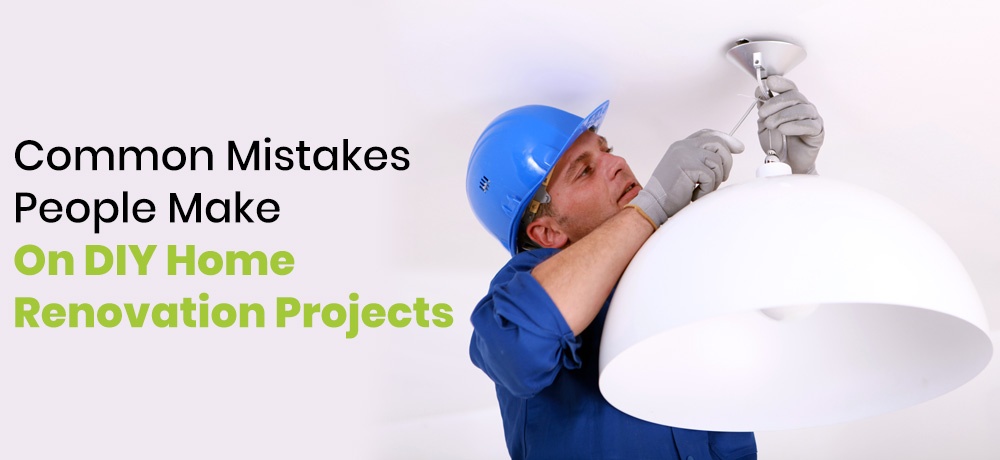 When working with electricity, safety is a paramount concern. Many homeowners are aware of the risks associated with electrical work and hire an electrician to help them with their electrical projects. However, a few people decide to work on their electrical needs by themselves. As laypersons, they tend to often commit avoidable errors which give rise to a host of problems and hazards.
Over the years, Delray Electric Ltd. has come across several challenges that could've been dodged had the client been aware of certain details related to electrical work. To help you steer clear of these kinds of situations and make the most DIY electrical projects, we've compiled a list of the most common mistakes people make on DIY home renovation projects and how to avoid them.
1. Putting only one light in their kitchen
We've seen many homeowners make the mistake of putting only one light in the kitchen to save some money. You can avoid this mistake by adding lights under and inside the cabinets and on the shelves. Adding different layers of lighting can help you create a better ambiance.
2. Not getting lighting upgrades
During home renovations, many clients fail to think about lighting upgrades. These upgrades will not only help you save energy but also give you greater control over the lighting of your space. It'll also enhance the lighting quality, which will help improve productivity.
3. Using the wrong wiring
We've come across many clients who don't use approved aluminum wiring or put the aluminum wiring directly on the receptacle. If these mistakes are not corrected, there's a risk of fire. Therefore, it's best to seek assistance from a licensed electrician to help you choose the right wiring.
4. Not checking smoke alarms monthly
Most homeowners get a smoke alarm installed during construction and then forget to get it checked regularly. To make sure your home is truly safe for you and your family, set a monthly reminder to get your smoke alarms examined at least once a month.
5. Buying cheap bulbs
People think that buying cheap bulbs will help them to save money. However, these bulbs are of inferior quality, and they won't last long. You should consider LED bulbs; while they might cost more upfront, they will last for years to come and will save you money on the operating costs.
6. Buying items from Amazon and other online marketplaces
Purchasing items from various online marketplaces is another way people try to cut back on their budgets. Remember that these products are not always approved for installation in Canada. Moreover, they can or will fail and become a fire hazard. Make sure you look at a company's credentials and approval before purchasing any electrical products.
To avoid these and other mistakes, reach out to the experts at Delray Electric Ltd. As a residential and commercial electrician in Morinville, AB, we offer complete electrical solutions that meet our clients' requirements and surpass their expectations. We have over thirty-five years of experience in installing, upgrading, repairing, and maintaining a wide range of electrical projects. We pay attention to detail and take the utmost care in handling every job and task to give our customers a superior experience. Our services are available across Morinville, Fort Saskatchewan, Sturgeon County, Westlock, Legal, Redwater, St. Albert, Sherwood Park, Edmonton, Spruce Grove, Stony Plain, Gibbons, Bon Accord, and Sandy Beach, AB.
To learn more about the services we offer, please click here. If you have any questions about electrical services, we'd love to hear from you. Please contact us here.
---
---