Top Five Things To Look For When Hiring An Electrical Company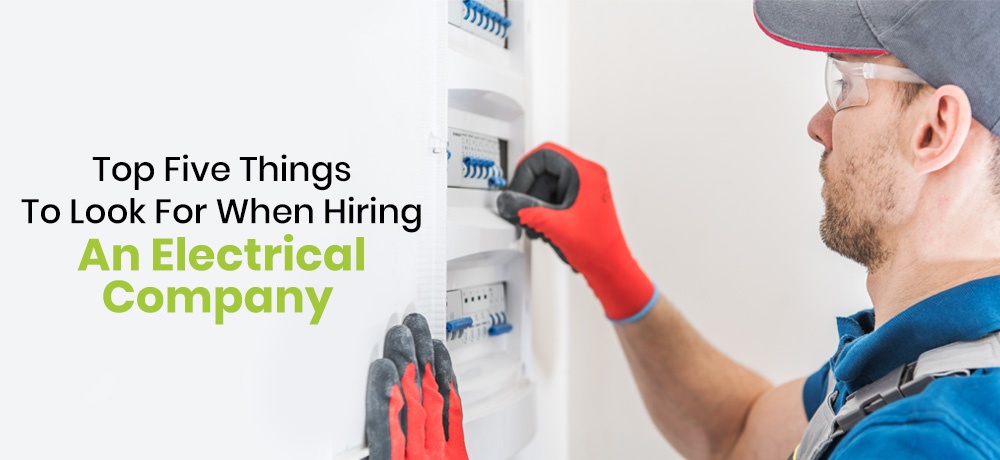 Whether you need to repair a small electrical outlet in your office or install a new electrical system at home, safety is of utmost importance with any electrical work. Most people acknowledge the risks associated with electrical work and enlist the services of a professional electrician.
An electrician who understands the fundamentals of electrical engineering will be able to complete your electrical project in an efficient and timely manner. They'll install, maintain, and repair all of your electrical systems to give you the results you expect.
Unfortunately, with so many electricians and electrical companies, it can be challenging to choose one and be assured of receiving top-quality services. To help you narrow down your options and make the right choice, here's a list of the top five things to look for when hiring an electrical company.
1. The longevity of the company
An electrical company that has been in the industry for several years will have worked on a diverse range of projects. As electrical workmanship requires a lot of safety protocols and a high standard of neatness, it's best to find a company that has a high level of experience.
2. Reviews
Before you hire an electrical company, go through their reviews online. You need to know what their previous customers are saying about working with them. If the electrical company has several positive reviews, it indicates that they've been successful in delivering quality services to its customers.
3. Reputation
Along with reviews, you need to check for a company's image and reputation. An electrical company that is good standing will have the necessary license and permit required. They'll also work in compliance with the rules and regulations and follow high standards of workmanship.
4. Value for money
Does the electrical company offer efficient services that are worth the price they're quoting? What are the services that are included in their quote? Do they use top-quality materials? Do they offer upfront and after-purchase benefits? Ask these questions before hiring an electrical company for your project.
5. Local
To boost your local economy and support your community, it's best to work with a company that is locally owned and operated. Local businesses are always known for offering excellent customer service and an unmatched caliber of work.
If you're looking for a residential and commercial electrician in Morinville, AB, reach out to Delray Electric Ltd. Whether it's a new installation, upgrade, repair, or maintenance, we can surpass your expectations by offering premium and complete electrical solutions that suit your needs. With over thirty-five years of experience in the electrical industry, we are known for our quality of workmanship and our exceptional customer service. We do not hesitate to go above and beyond to give our customers the best service. Our services are available across Morinville, Fort Saskatchewan, Sturgeon County, Westlock, Legal, Redwater, St. Albert, Sherwood Park, Edmonton, Spruce Grove, Stony Plain, Gibbons, Bon Accord, and Sandy Beach, AB.
To learn more about the services we offer, please click here. To get in touch with us, please click here.
---
---